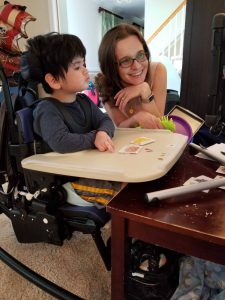 The last time I worked with Joey he was fairly quiet, and not as engaged as he usually is. He had just worked hard during his in home occupational therapy, and he just seemed tired. I was wondering if he was with me when he scanned the room and then gave me a disapproving look.
"What's up?" I asked. "What book do you want to read? What will Fat Cat Sit on? or What is Chasing Duck?" (I'm on a Jan Thomas kick since Joey told me he loved funny, silly books. You don't get sillier or funnier than Jan Thomas.
Joey looked past both books I was holding up and again scanned the area of the room behind me, obviously looking for something.
He turned back to his device. "Where a a which on?" he asked, then once again looking past me.
Where a a which on? I thought. Joey doesn't use the question words often, so my first thought was that where and which was a mistake. Except it was so obvious he wanted something. What was it? Where a a which on?
OH! It finally hit me. Joey was asking me for the book Room on the Broom! He used where appropriately, instead of just telling me he wanted it, he was able to ask where it was. He used the wrong form of which, but I'm pretty sure the correct form isn't on his device, and what four year old understands that there are two different versions of witch/which? When my own four year old says it she has no idea the letters it is attached to are different depending on the meaning. Joey doesn't have the word broom, so he couldn't say witch on broom, but he got as close as he could.
I was so proud of him, so I gave him a huge smile… and then delivered the unfortunate news. I'd taken Room on the Broom back to my house during our last session. I usually leave book kits with my students for about a month, and don't want to add to any family's clutter by stacking up my kits.
Joey was not impressed with my answer. Room on the Broom will be returning for our next session. Who cares if it's December, or that we've already read it over 100 times?
This interaction was an excellent reminder to me that I have to continue to shift my thinking in order to determine his meaning. If I let my mind get caught on the meaning of which I may have assumed Joey was just randomly selecting words and would have moved on. It takes a moment each time to think past my initial impulse and look for meaning. I love when I find it and can let Joey know that his words have meaning we can understand.