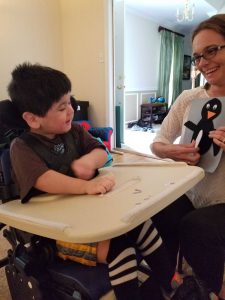 The other day when I arrived at Joey's house he seemed taller and older to me. As I sat down to work he grinned and through his eyes to his wall calendar, where there was a picture of balloons over yesterday's date. Oh! It had been his birthday. Perhaps he looked taller and older because he was fully feeling the weight of being five. A big kid with big ideas, plans, and thoughts.
How is Joey already five? It seems crazy that this year has gone by so quickly. I love using Joey's birthdays to remind me of what typical development looks like at this age. Sometimes when we work with kids like Joey we can get so caught up in what makes them different from others that we forget to see what makes them the same.
In Chip Wood's book, Yardsticks, he lists typical growth patterns for five year olds, including:
Five-Year-Olds:
Like to help, cooperate, follow rules, and be "good"; want adult approval

Need routines, along with consistent rules and discipline; respond well to clear and simple expectations

Dependent on authority, but also have trouble seeing things from another's viewpoint

Need verbal permission from adults; before doing something will ask, "Can I…?"

Literal, using and interpreting words in their usual or most basic sense: "We're late – we've got to fly!" means "We've got to take to the air like birds!"

Express themselves in few words; "play" and "good" are favorites

Express fantasy more through actions and less through words than at four

Think out loud- that is, they talk their thoughts

Like to copy and repeat activities

Often see only one way to do things

Bound cognitively by their senses; not ready to understand abstract concepts such as "fairness"

Ascribe life and movement to inanimate objects such as stuffed animals
Five Year Olds Learn Best Through:
Learn best through active play and hands-on activities

Think intuitively rather than logically; for example, "It's windy when the trees shake, so it must be the shaking of the trees that makes the wind"

Learn best through repetition; like to repeat stories, poems, songs, and games, sometimes with minor variations;

Learn best through active exploration of materials such as blocks, manipulatives, clay, sand, and water

Seldom able to see things from another's point of view

Express thoughts through action; need opportunities to play in housekeeping or other dramatic play corners

Learn and practice language skills through teacher modeling and direct role play, as well as dramatic play
So where does Joey fit into this long list of five year old characteristics?
Literal Thinking: With my own almost five year old I can see the literal nature of her thinking patterns come through in her daily communication, but it is far harder for Joey to show us that through his gestures, vocalizations, and AAC device. It's important to remember that he probably is taking what we are saying literally, and that we need to monitor our words and catch ourselves in those moments so we can explain to him what we mean since he can't ask us like most five year olds can.
Five year olds like to help. In my own house my almost five year old comes running when she thinks there is a chance she help (even when it isn't very helpful). For Joey, we can remember to slow down and find opportunities where he can help us. He can help me take the tops off my bins, open books, or hold items while I get something out. These may seem like some options, but hopefully they will build his sense of agency and identity and confirm that he is a valuable member of our world.
Hands on materials! This is also such a good reminder to me of the importance of bringing in manipulatives and varying my use of objects and materials – using clay, sand, water, blocks, etc – to further engage Joey. While Joey and I use lots of books, what I've seen over the last few months without his device is that he does love to participate in books, and that hands on materials are more likely to engage him (as they do for any five year old!)
Expressing thoughts through actions: It's also good to keep in mind that most five year olds express their thoughts through actions. Joey is limited in the actions he can show us – he isn't easily able to play in a housekeeping center. It is important for us to give him times for dramatic play and gross motor games (like hide and seek) that are adapted to meet his physical limitations, but give him the same cognitive explorations that a typical five year old would participate in. Part of this is slowing down, following his lead, and watching him for clues to what he's thinking and pretending in his head.
I also love the reminder of the importance of repetition and structured activities. Joey does love repeating the same games and activities while we read books, and once give a structure of an activity he follows it well.
I'm looking forward to watching Joey's development this year as he takes on more of these five year old characteristics.