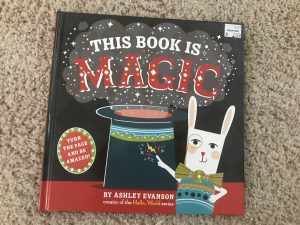 Joey and I recently enjoyed a few weeks of reading This Book is Magic by Ashley Evanson. Much like the books Push Here by Herve Tullet, This Book is Magic encourages the reader to fully interact with the book – tapping the page, waving or twirling fingers in the air, and saying magic words in order to make magic be revealed when you turn the page.
"Wiggle your fingers and say bravo!" 
"Wave your magic finger and say Bippity Boppity Big"
Throughout the book the reader is able to turn a frog into a prince, make books large, cause a boat to disappear, and interact with a lion.
I love books that bring the reader into the experience instead of simply allowing for passive enjoyment of a good story. Don't get me wrong, I love a good story. Yet there are times when we want to engage the listener even more than by simply sharing a good story. 
Books like this encourage a back-and-forth reciprocal communication between the reading dyad- or a "serve and return" as labeled by the Harvard Center for the Developing Child. It pulls the child into the story, while the adult reader must respond to the child's cues before moving on in the book. These back and forth interactions are essential for development. For children who may not be ready to listen to a longer story, these interactive books can create a bridge to books that require more passive attention.
Joey and I enjoyed reading the book by following the instructions together – he did the motions while I said the magic words. This let us work on matching our actions together and further encouraged us to tune into one another. (Which again promotes interaction and engagement). 
Of course, the book also allowed Joey to work on his vocabulary in his AAC device. The "magic" on each page lent itself perfectly to asking Joey to describe what he saw, and to use prepositions to explain that a book grew BIG or that a lion suddenly came OUT of his cage. 
I highly recommend checking out This Book is Magic if you are looking for a silly, engaging reading experience. 
Happy Reading!