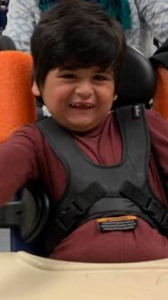 Before I was back in person with Joey his Occupational Therapist and I touched base. Although each person on a child's team has a speciality, nothing in development happens in isolation – a child cannot learn to communicate without also developing their motor skills – and vice versa. Typical development occurs with systems relying on one another, and when development is disrupted each system must continue to be addressed. In truth, I think Joey's OT and I wish we were able to collaborate more frequently. I can always tell when he has made sudden gains in OT because the gains coincide with progress in his communication and academics.
This time, his OT and I wanted to connect over his communication. Unfortunately, an eye-gaze AAC device is difficult to use during OT anytime, but it is nearly impossible during tele-health sessions. And without an ability to effectively communicate his preferences, Joey (and everyone) was becoming increasingly frustrated. 
As you can read here, she began focusing on basic signs so that he would have some way of making requests or expressing his wishes. But she wanted to know – was this disruptive to his AAC work, or was there something better to use during their OT sessions?
None of us communicate solely with one manner of communication. In a basic conversation with someone our gestures and eye gazes can communicate as much as our words do. However, as teachers and professionals we often get caught up in teaching one method of communication and forget to honor a child's total communication. We become so focused on using certain words or a certain modality that we forget a child may be trying to tell us something in another manner. While sometimes we want to see the child use a specific communication technique – using words instead of crying – we also need to honor that there can be multiple acceptable ways to express our wants and needs. Sign language, gestures that everyone understands, eye gaze, and verbalizations can all serve to signal the message a child wants to get across – in a manner that will allow the child to stay regulated and feel safe. 
I was thrilled to hear that Joey was using the signs appropriately. The first time we were back in person I asked Joey to show me what he'd learned. With the help of his assistant he was able to quickly demonstrate each sign. Now that I know his version of each sign I am able to honor it within our group. When he is having difficulty getting his eyes to correctly line up with his device so he can make a request he fluidly goes into using the sign for please and then pointing to what he wants. Now that we have included total communication into his session I can honor what he wants, help him remain regulated and know that I am hearing him. I can always model using the device to make the request after I have fulfilled it by simply saying "Another way to ask might be" and selecting the buttons. Often, I notice that Joey knows where the words are on his device and would select them if he could, but organizing his body in order to make the correct selection can become frustrating. After a few attempts he will use another communication method. 
The flexibility Joey uses to move between communication techniques is one of his strengths. The more people Joey can effectively communicate with, the more engaged he will become and the more successful he will be.