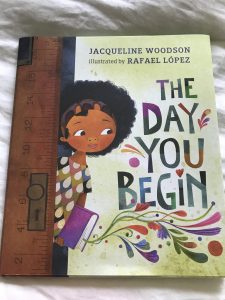 In my virtual Friday read aloud group that Joey participates in I read the book "The Day You Begin" by Jacqueline Woodson. It's a beautiful book – in both the poetry of the words as well as the pictures. As an adult, I'd read it to myself when it arrived from Amazon and thought "This is perfect." Of course, reading it silently to your adult self in your head is very different than reading it aloud to a group of energetic kindergarten and first graders on a hot June afternoon. Sometimes beauty gets lost in those moments. 
And yet – Joey surprised me. He appeared attentive and alert throughout the story. Of course, it is always hard to tell over zoom, but over the last few months I've become more adept at reading the body language of bored children through the computer screen. 
Woodson's story begins with "There will be times when you walk into a room and no one there is quite like you."….
On the third page she writes, "there will be times when no one understands the way words curl from your mouth"
Although the book is written around the idea of cultural diversity, it applies to anyone – all of us really – who in any moment may be the "different" one. And so, for a child using an AAC device to communicate, and who immediately physically separated from peers because of a cumbersome wheelchair, this book can be a reminder that we are not alone. Everyone has moments of being different – standing alone – feeling separated and suspecting everyone is laughing at you.
Woodson goes on to write, "There will be times when you walk into a room and no one there is quite like you until the day you begin to share your stories." The story encourages the readers to share their own identity and story with others in those brave moments of taking a deep breath.
"And all at once" Woodson writes, "in the room where no one else is quite like you, the world opens itself up a little wider to make some space for you."
Those lines reminded me of the book we made for Joey last year – it introduced Joey to his typically developing classroom peers and shared what made him similar with them – and what made him different. It gave him a presence in the classroom before he'd even entered.
I wish it was easier for Joey to share his story with his classmates – and all of us really. I wish it was as easy as standing up, taking a deep, brave breath, and "beginning". And yet I hope the message still resonates with him – there is a place for you in the room – and you are not alone.