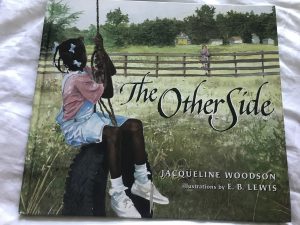 One of my favorite books to encourage children to discuss discrimination and racism is The Other Side by Jacqueline Woodson. Although I cannot meet with Joey in person yet, I found myself re-reading it with a view from how I would integrate it into my AAC work with Joey. It's important for us to remember to share the same books and messages that we are reading and discussing with our typically developing students. The inability to engage in an oral conversation around an important topic does not mean we should shy away from it. Instead, we need to look into other ways to engage with all students.
The Other Side is a beautiful picture book about a girl whose mother tells her that she cannot play on the other side of the fence that separates her house from the white family's house because it isn't safe on that side. The story is told from Clover's perspective as one summer she watches a white girl about her age sit on top of the fence that separates the two houses. As the summer goes on, Clover becomes brave enough to sit on top of the fence with her neighbor. From there, a friendship emerges that ends with the girls predicting that one day someone would come along and tear down the fence.
It is a deep story to use with upper elementary students to teach metaphor, theme, and author's message. For kindergarten and first grade students, the message is simpler. It often begins a wonderful discussion around friendship.
Looking at the book again with an AAC lens, I can see so many opportunities to work on vocabulary. The season of summer plays a large role in the book, as does the weather. Just holding up these pictures would offer an opportunity to practice using AAC vocabulary around weather and seasons. And of course – the opportunity to dive into prepositions, which I always love – to sit on the fence – or even negatives – mom said "don't" or "not" to go over the fence.
What I would want to dive into though, with open ended questions – is the concept of friendship. What words would Joey use to describe the friendship between the two girls? What words would he give to the idea of not being allowed to play with a peer? What emotion words would he use to describe how the girls are feeling?
It is hard to know. It is a story that can often go over children's heads, and yet, that shouldn't keep us from reading it to them. When we provide children with opportunities to answer open-ended questions and engage with the deeper, more complex life issues, we help them develop the patterns involved in higher-level thinking. And of course, what is the worst that can happen? A child becomes bored and disengaged with the book? Then we move on, find another activity, and try again later. But at least we showed the child what we believed he or she was capable of engaging with.
Since I cannot meet with Joey right now, I can't tell you how reading the book with him would go. But I do encourage all of you to consider how you can take the books and text that others in the same age group are reading and use them with your conversation partners.