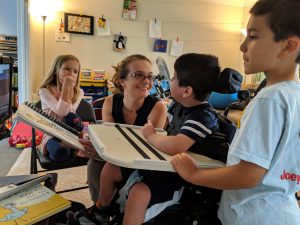 This past week I had the opportunity to listen in to AAC Learning webinar by Lauren Enders. It was chalk full of ideas, tips, and resources, and I am sure I will slowly reflect on them over time. The tips and ideas made me miss Joey and my work with him so much. I cannot wait to be back in person!
The first tip Enders gave was to ask yourself – "Would this be fun for me?" 
This question resonated with me. Our goal for teaching communication on the AAC is for children to be able to fluently use it, and have the desire to do so. AAC users must be engaged and motivated to communicate. Although as adults we can easily check a box and note that we taught a new word or skill, teaching does not translate to learning. What's more – we do not want our students to simply learn where the words are – we want them to own the words. The words need to get into their long-term memory, which means we need to do our best to make the learning fun, motivating and truly meaningful. 
We communicate with one another in order to connect with one another, either to have a need met or to feel safe. When we connect with another person we are creating a mental model of who are we as an individual, and who our communication partner ends. When we teach using the AAC we must keep this in mind – in order to be a communication partner we must be connected to our partner – they must trust that we will listen to them. Being able to find all the words on their device flawlessly will not help them truly communicate if they do not have meaning behind the words – or if they do not trust that anyone will listen when they speak. 
These two messages – the need to make it fun and the need to connect – were excellent reminders to me, particularly as our communities begin to open back up. Many of us are anxious to help our students make up for lost time during the closures. Instead of worrying about a child's output and packing more words into their vocabulary, we must first regulate our own emotions. Are we having fun? Are we connecting? Are we focused on the speaker and not just what is spoken?
Allowing ourselves to reconnect, reunite, and laugh with our students will move us closer to making progress.