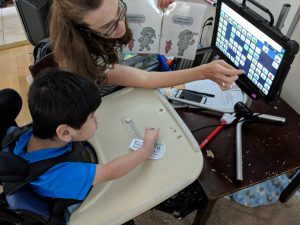 Joey and I were happily reading "There is a Bird on Your Head" by Mo Willems when we stopped to count the birds on poor Gerald's head. I prompted Joey to use his page with numbers to tell me that there were two birds. He did, and we went on. Yet as I was reading, I kept hearing "To. Too. Two". Each "to" was from a different place on the device. Some were the numbers, some were the word to. Of course, each sounded exactly the same.
Joey was carefully going through every place on his device that has any form of the word to, and was selecting it. He has the number two in at least three different places, and then of course there is the regular word to, which is in two different places. 
It was as though Joey was just checking that each of these words sound the same, even if they are in different places with different pictures. Stupid homophones. The English language is just crazy. Now how I am supposed to explain the difference between two and to, which is clearly what he is wondering as he selects them again and again. I love his curious mind, but oh, how it complicates things sometimes. 
I've noticed Joey doing this sort of exploring when he finds words that sound similar. He'll select want, and then go in and select what – both of which sound alike on his device. I struggle to know how to teach these. In some ways, the system Joey uses – Unity from LAMP – capitalizes on these. The word can, like "I can do it", is illustrated by a soda can. Here is illustrated by an ear. Do we go with that and accept it? In that case, do we accept it for two vs to as well? Joey does not have the word 'here' on his device yet, but he does have hear. Do we use hear, and then not comment that it is spelled differently in the book he is reading? 
Additionally, Joey also explores words that have the same picture. Me and Give have the same picture, and so Joey will select give if he has difficulty correctly hitting me. My has a similar picture with the icon that gets him into the folder with special characters. Occasionally, he'll be trying to read the word 'my' and he'll end up in this folder instead. Although sometimes he is actively exploring these similarities, other times he accidentally selects the wrong one, and then is confused. 
Despite all of these small nuances that Joey has to learn in addition to recognizing high frequency words like typical kindergartners, Joey is learning his sight words at a good pace. I continue to be impressed with his rate of progress and the ability to distinguish between me and my, when reading these words requires more steps than simply recognizing the difference and orally saying them aloud.