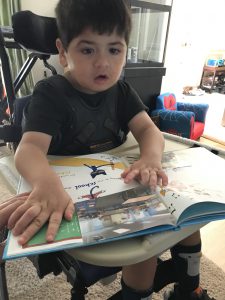 Now that Joey is in kindergarten, it is time for him to begin to learn to recognize some high frequency or sight words. Schools I've worked in previously have liked for kindergarten students to know about 25 of these common words by the end of the year. After watching Joey confidently learn his letters and letter sounds, I started to feel that Joey was ready for this next step this summer. I introduced them slowly at first, but now I am working on a new one each week.
When I taught kindergarten and first grade, we would learn one of these words in connection with a book or poem we were reading. We would first read the text, then identify the smaller word within the text. We'd break the word up into pieces, talk about what we notice about the word, and decide where it should go on our classroom word wall. We would clap the word, snap the word, cheer the word, and put it up on our wall where we would then practice it every day for a week. We knew those words. We'd write the word on a sentence strip inside a familiar poem or song we all knew, and we'd put that into a reading center that we could practice putting in order.
For Joey, I've tried to stick to a similar pattern. Each word we look at is tied to a repeated phrase in a book we are reading. I've typed the sentence or phrase out, laminated it, and cut it up so that each word can be held by itself. I've also put velcro on the back of each word so that Joey can manipulate the words themselves. This is a common Reading Recovery practice of making "cut up sentences" with one familiar text. 
For Room on the Broom (a Joey favorite), we focused on the word me, within the sentence "Is there room on the broom for a ___ like me?" In the blank there is a spot of velcro so that Joey can add a picture of each animal who asks to join the witch on her broom. 
From here we can identify the different letters in the word, listen to the sounds in the word, and then find the word on his eye gaze device. 
Here is where learning high frequency words gets trickier for Joey. Instead of simply remembering what the word says, and then saying that aloud, Joey has to also remember where to find the word on his device. Most of these words take at least two hits, and that's if Joey doesn't accidentally select the word next to it. 
The word 'me' has really created problems for us. Joey sees the word me and quickly scans the screen near where it is located. However, the picture on the word 'me' is the same picture under the word 'give'. To get to 'me', Joey needs to first select the word "I" and then find the word me. Unfortunately, most of the time he first selects the icon that has the correct picture, but on a place on the screen that does not represent the word me. It takes multiple attempts to tell me what he knows. 
Go is equally tricky because while Joey can look at the word "go" and make the /g/ sound with his throat, he has difficulty remembering where 'go' is on his device. He ends up selecting different buttons in the general area where 'go' is located until he finds it. 
I can catch myself becoming overwhelmed as I watch him try three or four times to find the word 'me'. How will he read a full book aloud to someone eventually if each word is so laborious? Will selecting each word become easier for him?
I have to step back and remember the importance of introducing Joey to literacy skills. His reading output may not look the same as other students, and he may struggle to read text with one-to-one matching on his device. But if I change how I measure Joey's reading ability, and assess his knowledge on each word in different ways, I can see that he is learning these words and he can differentiate between these simple high frequency words.
And to be fair, my own kindergartener isn't always consistent in reading me vs my, or look vs like.