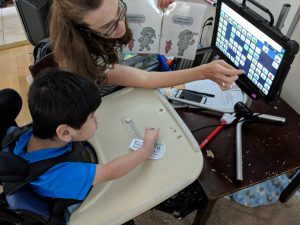 Asking for help on his eye gaze AAC device is something we've wanted Joey to be able to do for a long time. We model the phrase "I need help" and try to encourage him to use the help icon as much as he can to tell us what he needs. And he will use it, occasionally.
Joey's never been a fan of being given the specific words to use in any given situation. I learned this awhile ago when I tried to get him to use the word want. He used every possible word but want, and ended up working a lot harder than he needed to.
Lately, Joey's been letting us know what is going on with him in far more detail than simply "I need help." One day each week I see him immediately after occupational therapy. He works hard in OT, and it shows each time he sits down in his chair to work with me. On this particular occasion, as soon as he was close enough to his AAC device for it to respond to him, he said "sweat. Washcloth." I looked around for a washcloth, and not finding one, I grabbed a tissue and patted his head. He gave me a withering look. "Washcloth. Dishes bumpy" he said, and craned his neck in the direction of the kitchen. Clearly, the tissue I got him wasn't good enough. He wanted a dish towel that was bumpy for all that sweat.
He's told us, in great detail, about other needs he has too. It's exciting to see him put these words together into descriptions of what he needs. The grammar is off, and doesn't include verbs, but he is working on making his exact needs known.
I struggle with this, as I want him to be able to ask for help so that anyone will know. But frankly, "I need help" isn't nearly as descriptive as "Sweat. Washcloth. Dishes bumpy." Or is it? Do I know Joey too well so that I can figure out the intention behind the words? How important is the formal "I need help with my sweat." or "I need a bumpy washcloth."
After getting him his requested item, I modeled the full phrase, to which he replied "read". You can say, "I want to read." I modeled. He gave me another look.
Full sentences or not, I love his descriptions. It seems clear that he is thinking about what his communication partner needs to know to understand what he wants. We'll keep working on the sentences, and keep celebrating his descriptive comments.