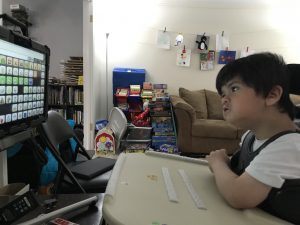 Over my 16 years as an educator I've learned one valuable lesson: Never underestimate the power of a cute baby animal. This has proved true for working with angry five year olds who have difficulty regulating their emotions (somehow looking at pictures of baby animals can sometimes immediately cause a child to relax).
So a few years ago when I saw a Ready to Read pack of Zoo Born books I immediately grabbed it because I figured at some point there would be a student who would want to read them, or just look at the pictures.
Lately, when I've been preparing Joey's book crates I've been including a Zoo Born book or two into the box to add variety to our work. I quickly found that Joey really enjoys looking at cute baby zoo animals as much as all the other five year olds out there. Who wouldn't?
The books are super simple with a set pattern – four to five sentences on the left hand page, and one repeated phrase on the right. They are perfect for early readers because the adult can read the left hand page and then the child can read the repeated phrase "Goodnight Baby Owl" or "I love you, Baby Panda!"
For Joey, these have been perfect. They allow us to look through and talk about the pictures with his AAC device. What does he see? Is the animal cute? Small? Silly? Furry? Soft? Many of the animals are in his vocabulary, so I can turn the page and he can tell me what he sees and describe it for me. Then, I can read the left hand page and pause so he can use his early reading skills to read the right hand page. I model putting together at least part of the sentence on his device the first time so he knows what I expect him to do, and has a reminder of where the words are. The next time I come to a repeated phrase, I pause and say, "You read!" He doesn't have all the words to complete the full phrases, but he is able to put together at least part of it. "Love you Panda!" "Good night Owl".
For our newest five year old readers we want them to begin to understand that print goes from left to right, the words contain a message, and words maintaining their meaning across each page – the group of letters – LOVE – says love on each page. These are the early reading concepts pre-kindergarteners are exploring right now, and Joey seems to be ready for this work as well. The Zoo Born series allows us to enjoy talking about books and cute animals, practice his core words, and build on his early literacy skills. And who doesn't want to gaze at pictures of sleeping panda babies?
Somewhat related – I was listening to the podcast Wow in the World with my own kids and learned about the universal reaction to looking at cute animals. See, it's a thing!