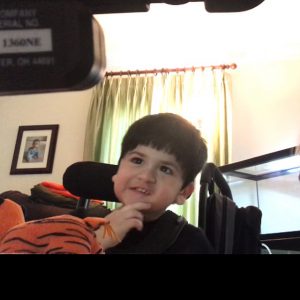 Every time I see Joey these days he seems to have more words on his device. His vocabulary is exploding, and he spends most of his time exploring these new words. During these times it is always hard for me to track his meaning and determine if he is exploring where his words are, trying to communicate a message, or if he is unintentionally hitting the new words while seeking out the old ones. I've learned to sit back and listen to him and give meaning to his words when I can.
In the most recent set of words, Joey gained the ability to communicate the idea of thought with the words think, thinks, thinking, and idea. It surprised me how much deeper he was able to communicate once he could add these words to his thoughts.
Before any child can truly use these words they need to develop a theory of mind – or the ability to assign ideas, thoughts, and emotions to oneself and others. In typical development, a child's theory of mind is developing between the ages of zero and five years old. This is often behind much of the terrible twos and three-nager behaviors. Our kids may be developing their own theory of mind, but they haven't begun to understand that others have thoughts, feelings, and ideas different than their own.
To be honest, I had never thought much about Joey's theory of mind, but I realize now that is because he did not have any way to tell me "I have an idea," "I think", or to say "I think the cat is thinking…" These words simply were not on his device yet.
I didn't know they had been added until Joey grinned at me and said "Have idea funny", and "wow a lot idea funny". Suddenly Joey can tell us that he has an idea. Instead of just asking for something (His idea was to read a funny book), he can tell us what he is thinking. To do this he has to understand that he has thoughts and ideas. The concept of idea is intangible, and yet Joey was using it correctly.
Later, when I labeled a character in a book as a monster Joey gave me a look and said "think lobster". Joey and I have a long running debate over whether the proper word for monster is monster or lobster. Now that he has the word think he can actually debate me more efficiently. Instead of "No lobster" he clearly let me know that he thinks it is lobster.
Communicating with these new words seems small, and yet, it gives Joey the chance to let us know what he is thinking. It also lets us know that Joey is thinking. He knows he is thinking and that he has ideas, and he understands that he can communicate those thoughts and ideas with us without just stating them or demanding them.
It is exciting to learn more about Joey each time he gains access to new words. I love watching this boy emerge from behind his physical limitations and show us all he is capable of.