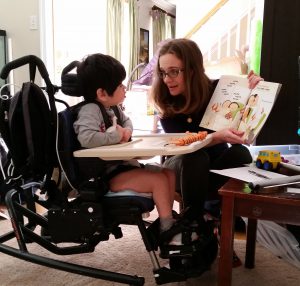 As most special education teachers are, I'm a bit of a data geek. I mean, I love data. I love tracking my students' progress. I love seeing growth over time. I love looking for behavior patterns and I love standing back and asking "what does this tell us?"
So sometimes I can get too caught up in the data. Joey's words exploded in September. He went from an average of 17 words per ten minute language probe to almost 26 words per ten minute language sample. Then suddenly, for two sessions, it was as though he hit the breaks.
As I started to realize how quiet he was being (and how few words I was able to record on my sheet) I started to panic. What was happening? Were we seeing a language regression? Was he sick? What was I doing wrong? Was I not listening or being motivating enough or talking too much?
But throughout these "quiet" sessions he was engaged with me. He was listening and responding to me, leaning in, giggling, oral making noises, and in general seemed to be enjoying our work. He just wasn't using his device. The week before he was saying 45 and 46 words in ten minutes the session and now he was saying 9 and 7 words this session. What was happening?
Looking back at the numbers and reviewing the session I realized that Joey was attempting more oral communication throughout the session. He had 5 and 4 words during our two ten minute samples, while normally he was 1 or 2. He was engaged and was communicating – he just wasn't doing it on the device.
I had to stop and look past the data and see Joey, the four and a half year old boy sitting in front of me, eager to read more books and play and sing. Nothing was wrong. He was trying to use different methods to communicate, and once I stopped focusing on how this was going to destroy my beautiful graphs I was able to see that he was just as engaged and attentive as usual – in fact, maybe even more so.
The following session he returned to his typical patterns and the data reflected the previous patterns. Now I'm still wondering what was different that day, and how I can continue to encourage those oral words. But I'm also trying to be conscious of remembering to keep Joey at the forefront of my thoughts, instead of the data and progress I can slip into. Data is nice, but it isn't everything, and no amount of data can make up for our in-the-moment interactions with our kids.