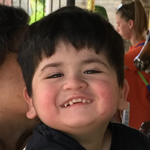 When I first picked up the book, Look! Written by Jeff Mack  I was immediately intrigued. The book has only two words repeated throughout the entire story, and both of them are words on Joey's device – Look, and Out.
The premise of the book is simple. A gorilla is trying to get a little boy to look at a book. The gorilla repeats Look! over and over again, but the boy is so engaged in his television that he either ignores the gorilla or gets mad, ordering the gorilla out of the room. Every time the gorilla returns to the room he ups his game to attempt to gain the boy's attention, just increasing the number of times he says "Look!" Eventually he falls over the boy's TV, which causes the boy to yell "Look out!" The TV breaks, the gorilla is shunned from the room, and the boy is left with nothing to do but read the left behind books. He becomes excited by a book about a gorilla and a boy, shares the book with the gorilla, and at the end of the book both the gorilla and the boy have filled up on reading and are now "out" (or sleeping).
The book is simple enough that a preschooler with a beginning concept of print can begin to read it independently. The book encourages a child to match the spoken (or eye-gaze selected word) to the written word on the page, and repeat that word every time the number of times the word on the pages changes. This type of book strengthen a child's early concepts of print and prepares them in becoming a reader.
It is absolutely perfect for Joey, because he can read it just like a typical four year old would be able to read it – by recognizing the differences between the words look and out, and correctly identifying them each time. What's even better is that the pictures are so engaging, Joey had fun talking about them and telling me what was going on.
During our first read he was horrified by the "bad" gorilla as he called him, and even said "don't gorilla" when the gorilla was balancing books on his nose. The gorilla's antics and the boy's anger on each page encourage so much conversation. We can discuss what the gorilla is doing, use prepositions to label how he is balancing the books, and can recognize the boy's feelings as they change.
I highly recommend this silly, yet simple book for creating engaging read alouds for any preschooler. The fact that it naturally uses core words is a plus in for inclusive settings, or for any child using the LAMP AAC device.