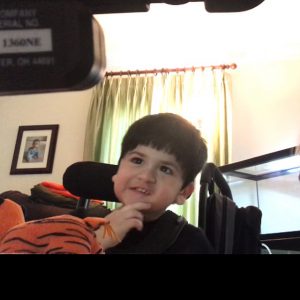 Sometimes I find it takes a long time to explain Joey's successes because there is so much background needed to set the stage for each story. Sometimes it involves explaining where words are on his AAC device, or how he uses his AAC device and words to communicate, or even what an AAC device is. These stories get complicated. That being said, read on because I think you'll be as proud of Joey as I am.
One of my favorite board books of all time is Mommy! Mommy! written by Taro Gomi. It tells a simple but relatable story of little chicks looking for their
mommy. They spot her across the farmyard by looking for the red comb on the top of her head, which
sticks out over plants and rocks. Sometimes they find her, and sometimes when they think they've found her they find something else that looks like her comb instead. When I first introduced this book to Joey he immediately fell in love with it. Truthfully, I was surprised. It almost seemed too simple for him, but he asked to have it read over and over again.
On our first read Joey enjoyed touching where he thought the mommy was hiding and turning the page to see if the mommy was really there or if it was a look-alike. The first time she was there. Then the chicks found a flower behind a rock instead of their mommy. The third time they found (what I believe is) a scary dog.
OK. Whenever I read this page my adult mind continues to call the animal a dog. Yet every child I've ever read this book with calls it a monster. It's long and red and scary so I guess it does look a bit monster like. The chicks in the story look terrified. My own daughter and I have gone back and forth on this point (my  husband sides with my daughter). Joey proved to be no different.
He studied the picture for a minute, and then made the /m/ sound while looking up at his words. "Dog" I said, and assumed he just hit the wrong button when he clicked on the tab for ocean animals. "Mmmmm" he said again and hit octopus, frowned slightly, went back into his ocean animal tab and hit lobster. Each time he said "mmmmm" before he hit lobster.
Sometimes I'm a bit slow to catch on. "Oh, I guess we could say it's a lobster. It's kind of red and long and looks like a lobster." Joey gave me a look and then continued to call it a "/mmm/… lobster" every time we read it.
OK, say lobster. Now take away the /l/ sound. You get obster. Now add the /m/ sound. Mobster. Now change the b to an n. A stretch? Maybe. But this is a kid who just started playing with rhyme. My guess is that to his ears lobster/monster rhymes. And he figured out a way to get us as close as possible to saying monster. We'll presume competence and go with it. After all, every other four year old whose ever read this book has declared that the figure on the page is a monster.
This kid. He never stops surprising me.