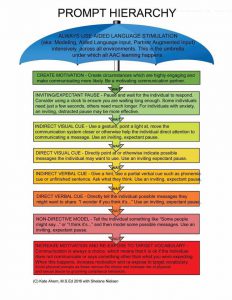 Before I became a special education teacher I hadn't put much thought into prompting, different types of prompts, or how important it is to be aware of the prompts we give our students. Yet now, I think of a strong understanding of prompts with wait time to be one of the most important gifts we can give our students. So of course, I was thrilled when I came across this prompting hierarchy chart made specifically for students using Augmentative and Alternative Communication devices, by Kate Ahmed and Shelane Nielson.*
Using this prompting hierarchy communicates respect and high expectation to the student, encouraging him to do his best. We start at the top, creating motivation and opportunities for the child to express himself. Only after the child is unresponsive do we move down the chart.
I love that this chart starts with creating motivation and providing a pause so that the student has time to respond. This motivation does not mean encouraging the child to earn a reward by choosing the "right" words on his talker. Instead, this implies we need to provide the child with engaging lessons where the child wants to engage with us. For Joey, this means books about fire engines, dinosaurs, and ducks. It's not about choosing my favorite books, but instead choosing books and activities that make Joey want to tell me about the pictures, answer my questions, or ask to play with a toy fire truck.
The next step, providing the pause, or wait time, is essential. We all need time to find our words (even if we don't use an AAC.) Some of us are just faster at finding our words than others. Although waiting for a child to find their words can be uncomfortable for the adult, we need to learn to sit with our discomfort and . You can read more about the importance of wait time here.
The next steps in the chart go through different types of discreet prompts, with in-direct then direct visual cues, in-direct then direct verbal cues, and non-direct modeling. It's important to remember that visual cues are less intrusive than verbal cues, and easier to fade. Therefore, in any prompting hierarchy, we try to use visual or gestural prompts before resorting to verbally telling a child what to do. The idea is always to be able to fade our level of prompting so the child will become independent. Too many verbal prompts will interfere with the goal of independence.
My favorite part of the chart is the non-direct model, which suggests using language like "some people may say". This indicates to the child that they could use these words if they wanted to, but that they still have control over what words they choose to use.
*I saw this chart on the Facebook Group, Motivate, Model, and Move Out of the Way. I've also found it on Pinterest, but am having trouble finding where it originated from.