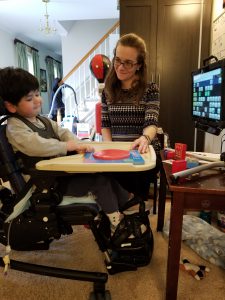 Joey loves fire trucks. Whenever I show him something red, he'll often say fire engine on his eye gaze device after he labels it. So when I came across a fire engine book I figured I should try it with him. To be honest, the book does not have a lot of the qualities I usually look for when I'm choosing a good book to use with Joey, but it did have a dog and a fire engine. Since we are going for interactions and not quality literature, I thought we'd give it a go.
Who knew that Dot the Fire Dog would be so motivational, or give us so many opportunities to practice using core words? There are yellow and black clothes for the fire men, they go down the pole and up on to the red fire engine. It is full of colors and prepositions, not to mention the fire engine itself, and that the fire fighters help people. I love modeling using help, because I think it is important for Joey to be able to advocate for himself, and I want him to remember that everyone needs help (and quickly be able to find the word on his device).
Although I usually like to do more to adapt books to make them accessible for Joey, for Dot the Fire Dog, I didn't do much but include the small stuffed dog, a plastic dog, a stuffed cat, and three different sized fire engines. Joey likes to hold the dog while we read, and when we play on the floor, he'll take the dog off or put him on his larger fire engine. Since Dot the dog saves a cat in the book, we use the stuffed animals to act out Dot holding the cat. Mouth, Joey said, when we looked at the picture and I held up the dog. Yes, absolutely right, I'll put the toy cat into the dog's mouth, just like in the picture.
The different sizes of the toy objects also gives us a great opportunity to stretch out back and forth communication. Joey points to the fire trucks on the floor, and I say "yes, a fire engine. You want fire engine." I hold up two of them, and ask "Do you want the big fire engine, or the little fire engine?" We're stretching out these interactions, modeling how to use his core vocabulary to show us exactly what he wants, while also working on the size relations between different items.
Joey's motivation for talking about the book is clear whenever we read it with him. He's quick to say fire engine whenever he can, and if we pause before we read the word in the book, he'll say it for us on his talky. In his enjoyment of this book, he's even started spontaneously saying want, get, and like. It's such a good reminder of how following a child's interest creates the best opportunities for spontaneous language practice.