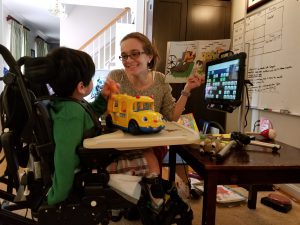 Joey's eyes hovered over his device, scanning it for the words he wanted to use. He repeated some words over and over again, and each time I tried to follow up and understand what he was saying. I kept getting it wrong. I'd ask some sort of clarifying question, and he'd go back into his device to repeat the words again, putting them in a different order or adding a new word to the mix. Off. Brown. Down. Turn. Fast. Down. Black. Turn. Yet any comment I made about what he was trying to tell me was met with a head shake. Eventually, a few tears began to run down his face. Through the tears he went back into his talky, looking for new words to make himself clear.
My heart sank. If only I could go into his head and read what he wanted so that I could see the connections between his thoughts and the words he chose. Was he having trouble selecting the right words? What did he want to tell me? While sometimes he will give up on his message when I don't pick up on it right away, this time he didn't. He kept trying. Eventually, between his words and his eye gaze, I figured out that he wanted the brown toy goat that had fallen down.
As much as it pained me to see Joey's quiet tear, I couldn't help but be proud of him. He wasn't becoming distracted or giving up. He didn't decide that he couldn't be understood so he wouldn't try. He stayed with me, and kept trying. The perseverance he used, as well as his strategies of changing the word order and adding additional vocabulary words showed his critical thinking. He was going to communicate. He was going to make himself understood.
That was our last session before Christmas. On our first session back after a week off, he was anxious to get back to work. We pulled him up to his talky. I expected his usual string of words,  , but he steadily stared at the screen, highlighting the word GET, and then narrowing his eyes as he concentrated on selecting it. Then he chose FAST. FAST. READ. Each word was slow to come, but Joey never looked away from his screen as he composed his sentence. I was tempted to move on at first, as I wondered if he was going to start randomly selecting words. But I waited. Get fast? Huh? But his intentionality and his determined expression showed me this was not an accident. "Get fast fast read."
"Yes sir," I replied. "Let's get going. I brought a new book today.
WORK said Joey, and grinned. "Yes, let's get to work."