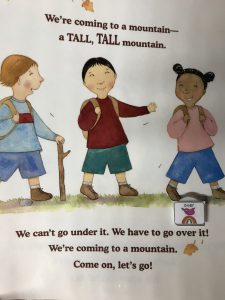 On Thursday, I handed Joey a few bright red maple leaves. He took one, held it up, looked at it, and then went to his eye gaze device. "Fire Engine" he said. "Fire engine."
Fire engine. Fire engine… Oh! Red! Fire engines are red! YES! This leaf was just as bright red as a fire engine. Joey grinned at my connection, and then dropped every leaf I had put in front of him on the floor, one by one. Apparently, bright red maple leaves were not nearly as engaging as I'd thought they would be.
I was so excited to read the book Going on a Leaf Hunt  with Joey. A preschool teacher had recommended the book to me, and after watching her kids have so much fun with it, I was so excited to introduce it to Joey. I bought the book, laminated the pages, used Boardmaker and images from Joey's AAC device to adapt the book and make it interactive. I color-copied the pages so that Joey could actually pick up the leaves along with the characters in the book.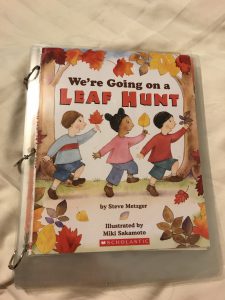 The book mimics the idea of Going on a Bear Hunt, where a group of children head out to collect beautiful leaves. They come to a mountain, and are forced to go over it. They come to a forest, and have to go through it. They go around a waterfall and across a lake. At the end of each obstacle the kids collect leaves from different types of trees. Unfortunately, they run into a skunk and have to run back, retracing their steps.
It has a fun, rhythmic and repetitive phrase, which I thought Joey would enjoy. I planned to work on sorting by having him pull the different leaves off the pages, and them sort them into different colors and shapes.
We would act out and retell the story by recreating the scenes, and having images of the children go over the mountain. I even had a boat like the kids take in the story, so that Joey could put dolls into a boat. (Boat is one of Joey's preferred words on his AAC device.) Even better, Going On A Leaf Hunt is perfect for working on prepositions, as you can act out going over, through, across, and around the landforms. I even velcroed multiple icons from the AAC device so that we could practice using different prepositions. I knew that Joey did not have the word through on his device, so I thought we could use in instead, because it would make sense to go into the forest. I included the pictures images of both through and in so that we would have choices if we did want to add through to his device.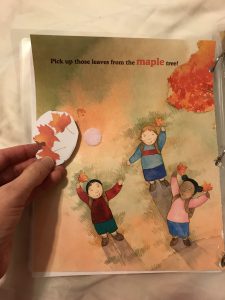 Joey missed the memo that he was supposed to enjoy the book. I'm not sure if the pictures were not engaging enough, if he did not connect with the concept of collecting leaves, or if he would rather read books about dinosaurs, but he did not engage with the book. He even rejected the real leaves I brought into his house.
As a teacher, I struggle with these moments. We always want the kids we teach do to the lessons we bring. I'm sure if Joey was in school he'd be engaged in the lesson, or at least would accept the lesson because other children would be engaged and excited as well. But this book didn't do the trick for him, when he was working one on one with a teacher. I didn't get much out of him during the two sessions I tried to use the book, and the data shows his communication decreased when I tried to force the book and activities on him. Back to find a more engaging, Joey-approved book that will build up more of our back and forth communication.
If you are looking for a good book that will allow for lots of movement and interaction, while also working on academic concepts, I do recommend Going On A Leaf Hunt.