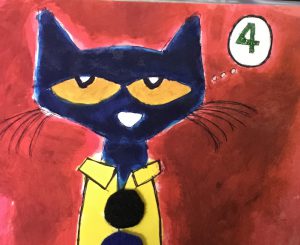 Joey loves Pete the Cat.
Who doesn't? Pete has bright colors, fun songs, and predictable story lines. With Pete it's all good.
Except… not always. Personally, I only like 3 of the Pete books. There are so many out there, but I am very loyal to the original three. Pete the Cat Walking in my White Shoes, Pete the Cat Rocking in my School Shoes, and Pete the Cat and my Four Groovy Buttons. The rest – well, I worry I'll lose major kid-street-cred by admitting this here, but…  I really don't like them. Eric Litwin, the original Pete the Cat author, seemed to get kids. Once James Dean took over the writing the books became a bit more wordy, more repetitive, and the songs were less-catchy. Not that the kids themselves noticed this.
No, every kid I know loves Pete the Cat and his Magic Sunglasses just as much as Four Groovy Buttons. But oh – I find reading these newer books so much more painful.
For Joey, of course, I'll do anything though. If he wants to listen to the painful pages of Magic Sunglasses, well, we'll read Magic Sunglasses. Repeatedly.
I took the book the other day and started planning. Joey's team had just added additional words to his AAC device and I was excited to see how I could incorporate these new words into our work with the book.
Pete's Magic Glasses is a perfect book for working on the preposition ON, because Pete has these magic glasses he keeps giving to everyone to put on. So I planned to emphasize ON. Of course, we could do OFF too, because the sunglasses have to come OFF.
Pete says hello and goodbye to his friends when he meets them, so I thought we could use the greetings in the AAC device to say hello and goodbye too. (OK, Pete only says hello once in the actual story, but I'm all about adding my own lines into the story. Now when I read it, Pete says hello and goodbye to every single friend.)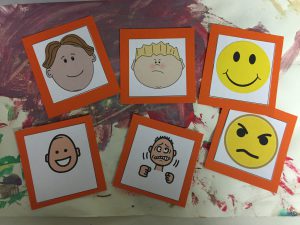 This book is perfect for talking about emotions. On every page a character expresses a feeling (which I planned to label with "He feels ______"). And then the character puts on sunglasses and his mood changes. Another chance to use the device! We could label the new feeling too "He feels happy." This would provide great practice at modeling how to use a three word phrase, and give us a chance to work on the meaning of all those emotion buttons on the device. After a couple practices I hoped that I could ask Joey "How does Pete feel now?" and Joey could answer using his device.
So on my planning paper, in my basement as I was planning out this book, it sounded like it was going to be a great lesson. Then I threw in a stuffed frog and a pair of sunglasses so that we could take glasses on and off the stuffed animals and ourselves (Joey is always trying to get my glasses, so now I could finally let him play with them).
I shouldn't say the lesson tanked because Joey loves books so much that nothing ever really feels like it tanks. But, if it had been any other kid – it would have tanked.
When the lesson was over it I looked at the data and it looked like Joey had barely participated at all. He'd been attentive and listened to the story, but I had so few recordings of attempts at communication, either verbal, gestural, or on the AAC device. Hmmmm… what happened to my perfect lesson?
Looking back now, I think one of the downfalls was that I actually overplanned for this lesson. Instead of following Joey's lead and making my learning objectives fit into what he wanted to read or do, I approached the lesson with a top-down focus. Joey politely complied, listened and enjoyed the story. But he didn't engage. The session became about me, and what I wanted to accomplish, not about him and what he needed at that moment. Of course, I went into it thinking that what I wanted to accomplish was what he needed, but because of that I was not listening or taking my cues from Joey. I was teaching the Joey in my mind, not the Joey in front of me.
Sometimes as educators, parents, and therapists, we over-plan. We have a lot to accomplish, and we want to do it all. Of course, we never want to go into a session without any plans, but when we become wed to our plans we can forget the bigger picture. Too much us, not enough of the kid. So next time, more Joey. I'll come prepared and excited about our next book, with goals of how I want to push Joey's progress forward. But I'll also have more of a reminder to stay in the moment. Instead of worrying about completing all of my objectives, I'll focus on what Joey needs right then. After all, our number one goal for him is communication, and if I am not responding to him, I'm not supporting meaningful and reciprocal communication.
And next time, Pete, I'm sorry, but I'm done with you and your magic sunglasses.