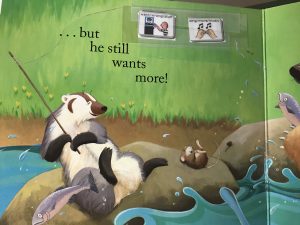 Since Joey loves books, it was only natural that we'd want to use books and interactive read alouds to help him learn to use his Augmented Alternative Communication (AAC) device. Joey began using the device in December, and we initially struggled to find ways to motivate him to use it since prior to using the device he had developed a way to communicate that was working out pretty well for him. One way we were able to model how to use the system, encourage him to use it, and introduce new core words was through his interactive read alouds .
Joey has books he loves. He absolutely lights up when you read Pete the Cat to him. To bridge in his core vocabulary, we simply added phrases into the story. Pete is walking down the street, singing his song when suddenly he stops in a large pile of something. (This happens repeatedly – with strawberries, blueberries, mud, and then water). As a way to include Joey's communication device into the story, I added a picture of the 'stop' sign here, so that we could add in the line "STOP Pete, STOP!"  Although that phrase is not in the story to begin with, it logically fits with the story. If you saw someone walking into a large pile of blueberries you would cry "STOP!" too.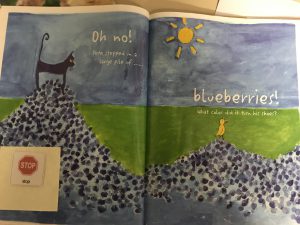 Of course, it is Pete, and nothing bothers him, so after the line "Does Pete cry? Goodness no! He keeps walking along and singing his song," I added a picture of the 'go' icon so we can now read "Go, Pete, Go." This labels what Pete is doing – going along. Adding in these additional phrases gives us an opportunity to model using the system with a repeated phrase. Joey does not have to process a novel sentence each time, instead he knows what the words are so he can watch us select the buttons that correspond with those familiar words.The goal is that eventually this repetitive sentence gives Joey an opportunity to respond to the story himself, so that we can pause at the right moment and Joey can use his eye gaze system to say "STOP!" and "GO!" to Pete.
On some reads of this book we can just focus on the core words of stop and go. Other reads we can bring in other vocabulary words as well. Joey has access to all of the color words on his device, so we can label what color Pete's shoes turn. Pete the Cat books are great for this because they directly ask the reader a question – "What color did his shoes turn?" This creates a natural, environmental prompt. Any three year old reading the book is encouraged to label the color.
We also look for books that already use core vocabulary as a repeated text. Bear Wants More is great for this, since it uses the phrase "wants more" in predictable parts of the story, which can be done on the device. It also incorporates the words 'hungry' and 'eat, eat, eat' which are also core words on Joey's device.
I like to print out a picture of the icon on the device, tape* it to a sticky note, and then put that sticky note into the book. The sticky notes do not do any damage to the book pages, but easily let you add your own words and phrases into a book. The greatest value I've found in adding the images of the core vocabulary words into the book is that it serves as a visual reminder for the adults (myself included) to use the talky. I can easily get wrapped up in the story and can forget to incorporate the device, even if it is right there.
Although Joey does not always select the words on the device during the story, he does use the words from the story at other times during our sessions. Spontaneously transferring and generalizing the targeted vocabulary to other occasions shows us he is paying attention to the vocabulary in the books and applying understands its meaning.
*Tapping in the pictures was a great idea, until the system updated their icon pictures and now all of my books have icon for want as the criminal stealing and not the new cookie jar picture. I like the picture better, but I'm not a fan of re-doing my prep work!