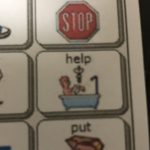 Those Small Moments of Great Success
I'd just sat down with Joey to read Five Little Monkeys Jumping on the Bed. He was working hard on pulling off the monkeys I'd velcroed into the book when suddenly he stopped and looked at his AAC device.
He quickly hit the first button that opened the page where 'help' was located, and then he hovered on the button help, not yet clicking it. I waited, sitting on my hands. I knew he wanted help, and I wanted to give it to him, but if I jump in too early he'll never learn to make that final second click on the help button. I could tell what he wanted to say next – the help button was highlighted in gray to show that his eyes were looking at it. He just hadn't been looking at it long enough to select it yet.
When Joey started using the AAC device, he was the Words For Life One-Hit system. He did pretty well at this, and seemed to adapt to the idea of the eye gaze system quickly.  In fact, with the one hit screen he was pretty good at getting out of the main screen and finding the pages that held the categories – pages of zoo animals, farm animals, vehicles, etc. This was a good sign that he was ready to move on to the multiple-hit system. The two hit version of the system means that he has to first select an overall category button. Once he clicks that a new page will open up for him, giving him more words in the category.
The core vocabulary buttons stayed in the same place after the switch, but before Joey only had to hit the picture of the bathtub once to ask for help. Now when he hits the picture of the bathtub it opens up a new page, and he has to hit the 'help' button again before it will say the word.
I think we were all surprised at how quickly Joey adapted to the two hit system. He is not always consistent with it, but he is able to hit the two clicks some of the time, especially when he is motivated. In fact, sometimes he can do both quickly. Other times, he hits the first button and then stops, almost as if he's lost staring at the empty squares on the next screen.
So I waited, as he hovered over 'help', waiting for the auditory word so I could jump in and help him. Come on Joey, I was silently cheering. You are so close… Finally I heard the word 'help', and I gently pulled the velcro picture off the page. Joey immediately looked displeased, which is rare for him if you've done what he wants. Usually when you help him out he will give you a big smile. Obviously, removing the velcro picture was not what he'd wanted help with.
I looked at his face and realized that his nose was just beginning to run. He hadn't been asking for help with the book at all – he'd been asking for help with his nose!
We found a tissue, cleaned him up, and he rewarded us with his big grin.
To me, this was huge. It was the first time I'd seen him use the talky to make a request that was not related to what we were doing. Typically he will drop a toy off his tray, and then I'll pause and wait until he asks me to pick it up. But this was not prompted. He spontaneously advocated for his own needs. He recognized that he was about to need a tissue, and paused his current activity to ask for one. (I should note that this is not a strength for my own three year old who has no problem letting her nose run so that she does not have to stop what she's doing.)
It's amazing how using that one word can seem like such a large success. It's just two clicks of a button, but it is so much more than that. It is the beginning of Joey recognizing his needs, recognizing that he can ask for help with these needs, and then using the machine to let the adults in his world know what he needs. The ability to make requests in order to meet your basic needs met is essential to living comfortably.